Summer 2022 Englander Institute Newsletter
Summer 2022
Dear Friend of the Englander Institute for Precision Medicine,
Welcome to our second quarterly newsletter of 2022!
Thank you for signing-up on our website to receive this newsletter, we hope you enjoy learning more about the important progress we've made towards our mission since the spring.
Already this year our staff has won numerous high-profile awards, participated in significant collaborative events, attracted strong news media attention, and published impactful research highlighted below. None of this could be possible, of course, without our tremendous team. Their hard work and dedication inspire me every day.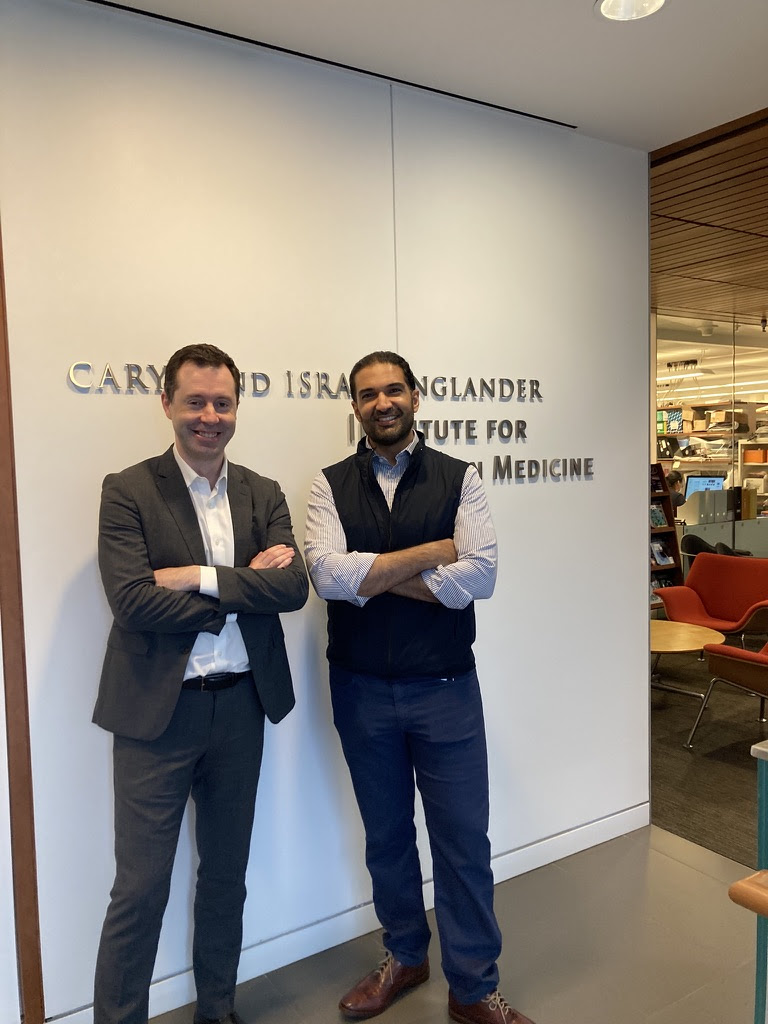 We've had a number of visitors recently, including: Dr. Khalid Fakhro, Chief of Research and Director of Precision Medicine at Sidra Medicine in Qatar; Dr. Taha Merghoub (right) from Memorial Sloan Kettering; New York City Council Member Julie Menin; Charlie Roberts, the co-founder of Freenome; Philippe Etienne, the Ambassador of France to the United States; and Gilles Bloch, the CEO of Inserm (the French NIH). These visitors toured the EIPM labs and offices to learn more about what we do and came away very impressed by what they saw. I'd like to thank our EIPM colleagues who have taken time out of their busy schedules to participate in these tours. 
I'd like to thank our colleagues at Weill Cornell Medicine's Meyer Cancer Center (Twitter: @WCM_MeyerCancer) for partnering with us on a range of subjects and projects including the joint MCC/EIPM summer 2022 internship program for STEM students! The students will participate in sessions on cancer genomics, epidemiology, health disparities, and more. Thanks to all of our MCC/EIPM colleagues who are volunteering to mentor and train the next generation of researchers.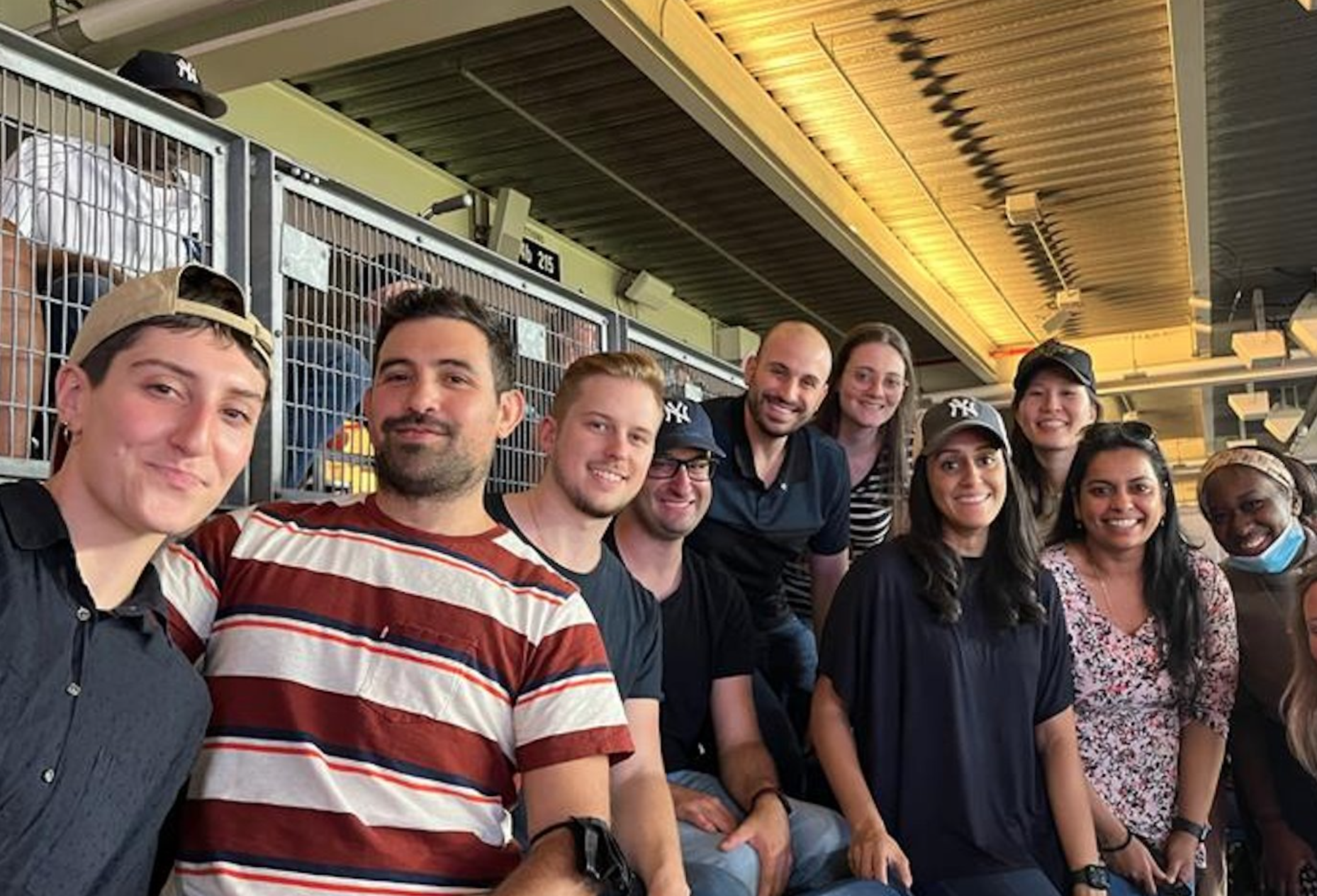 Life is about balance and summer means baseball. So it's only fitting that when many of our colleagues recently hung-up their lab coats at the end of the day, they pulled on their baseball caps to attend a New York Yankees game together on June 14th. And the EIPM team was rewarded for heading up to the Bronx with a 2-0 win over division rival Tampa Bay!  We have a number of exciting career opportunities we are hoping to fill soon, including openings for a Bioinformatics Analyst, Senior Software Engineer & Front End Developer. Thank you in advance for sharing these opportunities within your professional networks.  Thank you for your interest in our work and mission. I look forward to sharing more information with you at the end of the second quarter. Until then, please follow us on Twitter, Facebook and Instagram for daily updates.
Thank you again for your interest in our work!
Sincerely,

Olivier Elemento, Ph.D.
EIPM Director
Meet the Team!

Cornell Technology graduate student Grace Le interned earlier this year with our colleague Alex Sigaras, M.S. in the EIPM AI-XR lab where she worked on Holograph, a graph visualization application in mixed reality that aims to help researchers identify patterns in cancer/drug networks. We hope you enjoy learning about her background and research interests.
News Coverage & Awards 
Dr. Shahin Rafii from WCM's Meyer Cancer Center and the EIPM (MCC/EIPM) along with two WCM physician-scientist colleagues received one of the top honors in the field of health and medicine by being elected to the Association of American Physicians on April 11th. 
On April 25th Dr. Pinkal Desai earned a 2022 Ritu Banga Healthcare Disparities Research Award which recognizes research by WCM investigators to improve the health of underrepresented minorities or reduce health disparities.

Congratulations to our Director for Liquid Biopsy Research, Dr. Pashtoon Kasi, for receiving funding for a new investigator initiated clinical trial he's going to be developing for neoadjuvant therapy for patients with colon cancer involving immunotherapy. Research presented at ASCO2022 by Dr. Kasi was covered by OBR Oncology in the article "Intermittent Therapy May Improve Progression-Free Survival, Reduce Toxicity in Metastatic Colorectal Cancer," published on June 17th.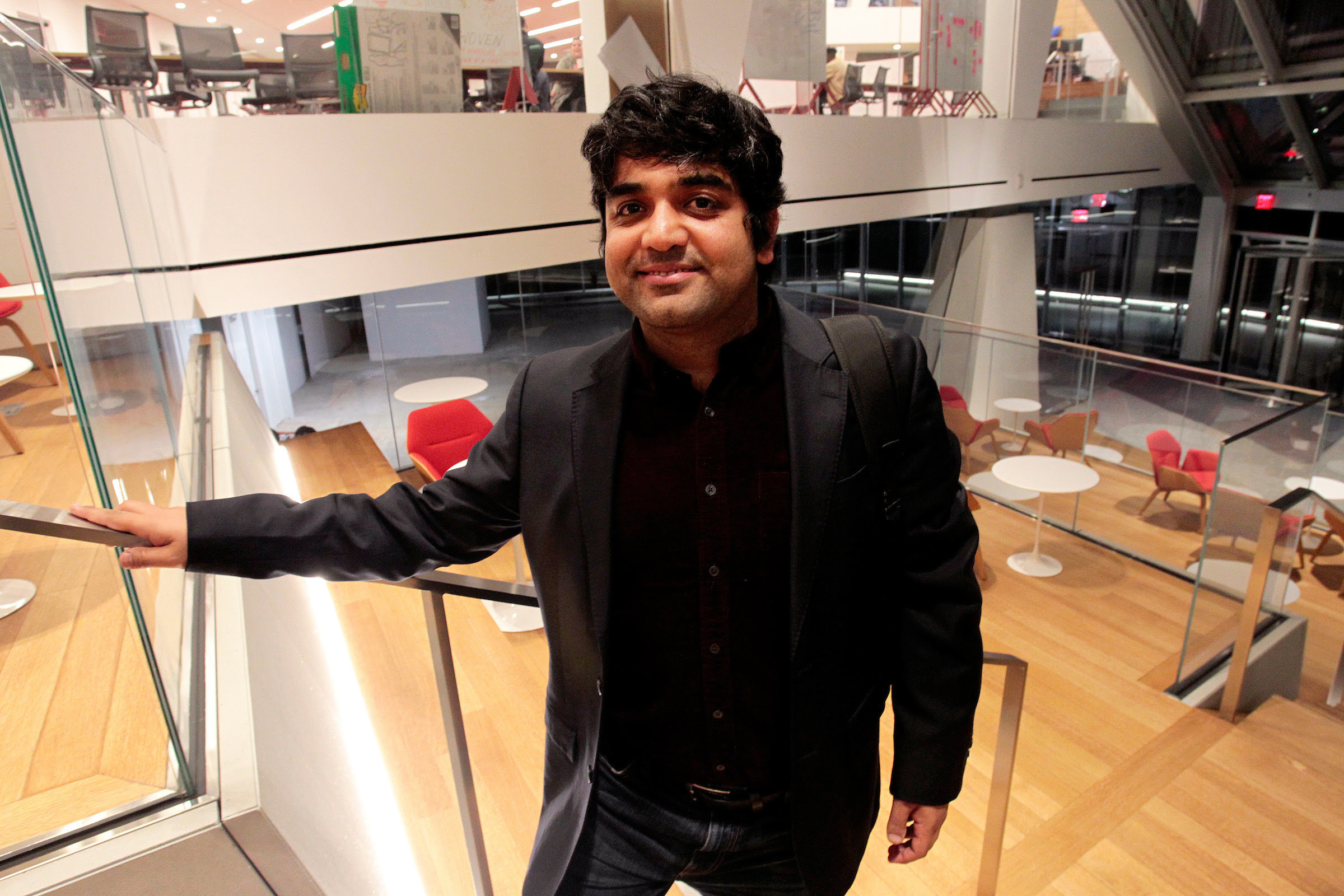 Congratulations to our colleague Dr. Iman Hajirasouliha on his recent promotion to Associate Professor!
Dr. Melissa B. Davis, (MCC/EIPM), was interviewed for the article, "Dr. Davis on the Influence of Racial Constructs and Genetic Ancestry in TNBC," that appeared in OncLive on April 10th. Dr. Davis also participated in a video panel discussion entitled "African DNA Matters: How Precision Medicine Impacts Black People," organized by the African Ancestry Experience on April 23rd. And Dr. Davis was interviewed for the broadcast news story, "Racial and ethnic disparities in breast cancer outcomes," that appeared on NY1 News on May 4th.
I was interviewed for the article, "Dr. Elemento on Utilizing Circulating Tumor Cells to Assess Treatment Resistance in mCRPC," which appeared in OncLive on April 10th. 
Dr. Bishoy M. Faltas published a number of Expert Commentary's in UroToday including "Altered Urine Metabolome in Patients with Bladder Cancer," on April 5th; "Single-Cell Transcriptomic Profiling of Bladder Cancer," on April 15th; "Risk-Adapted Oncologic Surveillance Post-Radical Nephroureterectomy for High-Risk Upper-Tract Urothelial Carcinoma," on June 16th; and "STAG2 Expression as a Prognostic Marker in Bladder Cancer," on June 23rd.
Dr. Kristy A. Brown was interviewed for the article, "Impact of obesity on breast cancer penetrance in hereditary cancers," by the Video Journal of Oncology during the American Association for Cancer Research Annual Meeting in New Orleans, LA. on April 10th. 
EIPM Scientific Director Dr. Massimo Cristofanilli was interviewed for the article, "FDA Panel Puts PI3K Inhibitors for Blood Cancers on Notice," which appeared in MedPage Today on April 22nd; and in a related article, "ODAC Unanimously Votes to Recommend Randomized Data for Approval of PI3K Inhibitors in Hematologic Cancers," which appeared in OncLive on April 21st.
Drs. Monica Guzman (left) and Gail Roboz were featured in a Weill Cornell Medicine Newsroom article "Immune Therapy Targets Cells that Cause Relapse," on June 2nd about their new study in Nature Communications on a new cell therapy, now being tested in phase 1 clinical trials, that may ultimately help patients with AML to remain cancer-free.

Dr. Lisa Newman was interviewed for the story, "Racial minorities have higher death rates from cancer than white patients, study shows," that aired on ABC News on June 8th. Dr. Newman was also chair of the AACR Cancer Disparities Progress Report 2022 steering committee, whose new report tracks progress in addressing cancer health disparities and identifies work that still needs to be done. This report was covered by Cancer Today Magazine in an article entitled, "A Look at Disparities Across Cancer Care," published by June 15th; and in the article "Cancer Disparities Represent Ongoing Public Health Challenge," published in Renal & Urology News on June 27th.
Events
Dr. Melissa B. Davis chaired the panel, "Molecular Epidemiology of Stress and Discrimination and Cancer Outcomes," during the AACR annual meeting on April 10th; also on April 10th she presented on the topic of "Impact of Genetic Ancestry and Social Determinants on Disparities." On May 1st Dr. Davis participated in a National Breast Cancer Coalition panel discussion diving into healthcare disparities in the US and how activists can facilitate change in the movement toward health equity for all. Dr. Davis presented "Uncovering the Influence of Ancestry in Tumor Biology of Breast Cancer Disparities," before the Breast Cancer Coalition of Rochester on June 22nd.

Our Molecular Aging Institute's Clinical Director Dr. Pinkal Desai delivered WCM HemeOnc Grand Rounds, "Clonal Hematopoiesis and Hematological Malignancy Risk," on April 5th.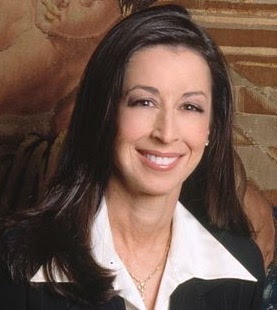 Our Clinical Director Dr. Cora N. Sternberg delivered an EIPM Precision Medicine conference, "De Novo Small Cell Prostate Cancer Patient with Exceptional Response," on April 7th.
Dr. Lorenzo Galluzzi, (MCC/EIPM), presented during the annual meeting of the Society for Immunotherapy of Cancer workshop on April 22nd, and Dr. Enrique Podaza (left) from Dr. Laura Martin's lab presented a poster on their work with immune cells and organoids. 
Dr. Niroshana Anandasabapathy, (MCC/EIPM), participated in the 2nd Intercampus Immunology Symposium at Cornell in Ithaca and spoke on the "Imaging and Tissue Immunity," panel on April 19th. Dr. Anandasabapathy also spoke during the "Balancing Tissue Immunity and Tumor Immune Surveillance Through Dendritic Cell: T Cell Cross-talk," session of the FOCiS Annual Meeting on June 22nd.

Dr. Iman Hajirasouliha presented a Cornell Engineering Seminar, "Deep Learning Imaging — Applications in Pathology and Embryology," on Friday, May 6th.
Our Associate Director for Precision Immunology Dr. Laura Santambrogio was invited to give two talks at the American Association of Immunologists (AAI) meeting in Portland, OR. She was also the organizer of the Block Symposium on Antigen Processing and Presentation, also at the AAI meeting. The work performed in her laboratory on the newly discovered 3HKA, published in Nature Communications last July, was selected by WCM to be presented at the upcoming annual BIO International Convention in San Diego.  
Our Scientific Director Dr. Massimo Cristofanilli, the Chief of Breast Medical Oncology and Assoc. Dir. of Precision Medicine at the Meyer Cancer Center, presented a MCC Director's Seminar Series talk on June 29th.
Dr. Iman Hajirasouliha and I spoke at the third MLiM inter-campus symposium, "Bridging the Divide: Machine Learning in Medicine 2022," discussing the future of AI in Medicine on June 6-7. 
Dr. David Nanus, (MCC/EIPM), participated in a panel discussion, "Advances in Prostate Cancer Screening and Treatment," along with WCM colleagues that was hosted by Schneps Media on June 21st.
Drs. Melissa B. Davis, Massimo Cristofanilli and colleagues presented during the Accelerating Research in Genomic Oncology conference on June 14th.
Publications
Clinical Director Dr. Cora N. Sternberg co-authored a number of papers this part quarter, including "Management of Patients with Advanced Prostate Cancer: Report from the Advanced Prostate Cancer Consensus Conference 2021," published in European Urology on April 18th; "Putative Biomarkers of Clinical Benefit With Pembrolizumab in Advanced Urothelial Cancer: Results from the KEYNOTE-045 and KEYNOTE-052 Landmark Trials," in Clinical Cancer Research on May 13th; "Darolutamide and survival in metastatic, hormone-sensitive prostate cancer: a patient and caregiver perspective and plain language summary of the ARASENS trial," in Future Medicine on June 3rd; and "Effects of metformin and statins on outcomes in men with castration-resistant metastatic prostate cancer: Secondary analysis of COU-AA-301 and COU-AA-302," in the July 2022 edition of the European Journal of Cancer.
I published an In The Spotlight article, "Toward Artificial Intelligence–Driven Pathology Assessment for Hematologic Malignancies," in Blood Cancer Discovery on May 1st. I also published the article "Molecular and Pharmacological Bladder Cancer Therapy Screening: Discovery of Clofarabine as a Highly Active Compound," in European Urology on April 4th. I was happy to co-author a new paper by WCM investigators Drs. Jedd D. Wolchok and Taha Merghoub, "Tumor-induced double positive T cells display distinct lineage commitment mechanisms and functions," in the Journal of Experimental Medicine on May 23rd. 
Dr. Lorenzo Galluzzi, (MCC/EIPM), and colleagues published the Review article, "Myeloid-Derived Suppressor Cells and Radiotherapy," in Cancer Immunology Research on April 15th. Dr. Galluzzi also published the editorial "Restored Ketosis Drives Anticancer Immunity in Colorectal Cancer," in CancerResearch on April 15th. 
Dr. André Figueiredo Rendeiro and I co-authored "Inflammatory Responses in the Placenta upon SARS-CoV-2 Infection Late in Pregnancy," in iScience on April 11th.
Dr. Enrique Podaza co-authored "An Update of Cutaneous Melanoma Patients Treated in Adjuvancy With the Allogeneic Melanoma Vaccine VACCIMEL and Presentation of a Selected Case Report With In-Transit Metastases," published April 1st in Frontiers in Immunology.  
Drs. Nasser K. Altorki, Vivek Mittal, Bhavneet Bhinder and I published "Global evolution of the tumor microenvironment associated with progression from preinvasive invasive to invasive human lung adenocarcinoma," in Cell Reports on April 5th. 
Dr. Niroshana Anandasabapathy was the lead author, along with co-author Dr. Akanksha Verma and myself, on the publication "An activation to memory differentiation trajectory of tumor-infiltrating lymphocytes informs metastatic melanoma outcomes," in Cancer Cell on May 9th.
Dr. Melissa B. Davis published, along with co-authors Drs. Brittany D. Lord and Rachel N. Martini, "Understanding how genetic ancestry may influence cancer development," in a Science & Society Special Issue: Cancer Health Disparities in Trends in Cancer, in April 2022. 
Dr. Pashtoon Kasi published the Commentary, "Call for Adoption of Synchronized Biweekly Dosing of Anti-EGFR Agent Cetuximab: Implications for Patients with Metastatic Colorectal Cancer, and Squamous Cell Carcinoma of the Head and Neck," in the May 2022 edition of The Oncologist.
Our colleague Dr. Ashley Doane and I collaborated on "Alterations in transcriptional networks in cancer: the role of noncoding somatic driver mutations," in the August 2022 edition of Current Opinion in Genetics and Development.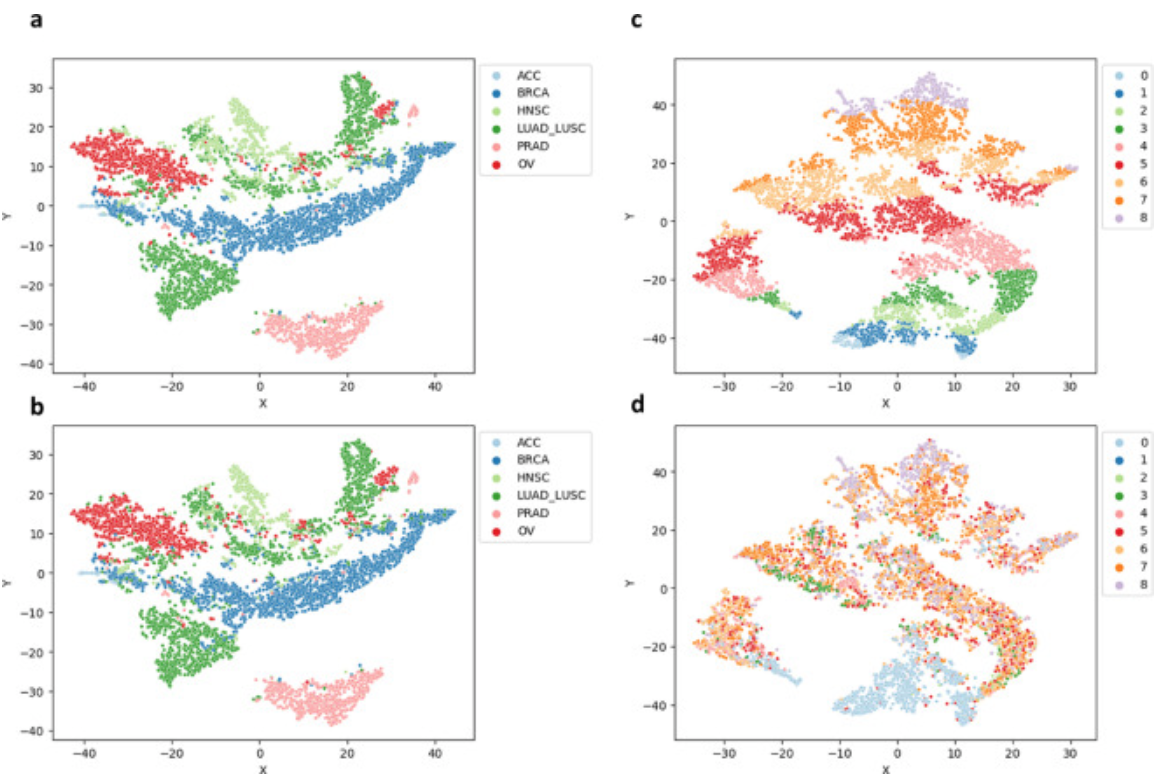 Nearly a dozen WCM investigators collaborated on the new paper "Weakly-supervised tumor purity prediction from frozen H&E stained slides," in eBioMedicine by Dr. Iman Hajirasouliha, with EIPM co-authors Michael Sigouros, Alex Sigaras, Troy Kane, Dr. Pegah Khosravi, and myself, with Drs. Juan Miguel Mosquera and Majd Al Assaad from the WCM Pathology and Laboratory Medicine department and the EIPM, June 2022. 
A range of WCM researchers, led by EIPM Member Dr. Ekta Khurana, (MCC/EIPM), published "Chromatin profiles classify castration-resistant prostate cancers suggesting therapeutic targets," in Science on May 27th, with EIPM co-authors Duo Xu, Alexander Martinez Fundichely, Kenneth Eng, Rohan Bareja, Clinical Director Dr. Cora N. Sternberg; Dr. Shaham Beg, whose primary affiliation is now WCM Pathology and Laboratory Medicine; and Dr. Andrea Sboner from the WCM Pathology and Laboratory Medicine department and our Director of Informatics and Computational Biology.
"The landscape of metabolic brain alterations in Alzheimer's disease," by Dr. Richa Batra with Dr. Jan Krumsiek in Alzheimer's & Dementia, July 13th.
# # #